One of the frequently asked questions is things to do in Crete in October and also whether the weather is favorable for the same.
Before venturing into these excursions and activities to engage in, it is good to know the kind of weather you will deal with at that time. The temperatures are slightly lower compared to the preceding months of summer, July, and August. They range between 20°C and can drop to 18 °C, this is still favorable for swimming. So, the weather is lukewarm and just perfect for the various activities in Crete.
Crete experiences sunshine for approx. 6 hours which makes it a good time for sunbathing and swimming, while the rest of the day is perfect for hikes, walks, and bike riding.  There are also moderate winds that provide a cool breeze conducive for your excursions.  This is such a good month to be in Crete bearing in mind that it is less congested because most tourists have concluded their vacation by this time.
Now back to the type of activities to engage in when in Crete in October, the following are some tips of things you could consider. 
TOP
5

CRETE EXCURSIONS IN OCTOBER
GoX
plore
Quad Safari Tour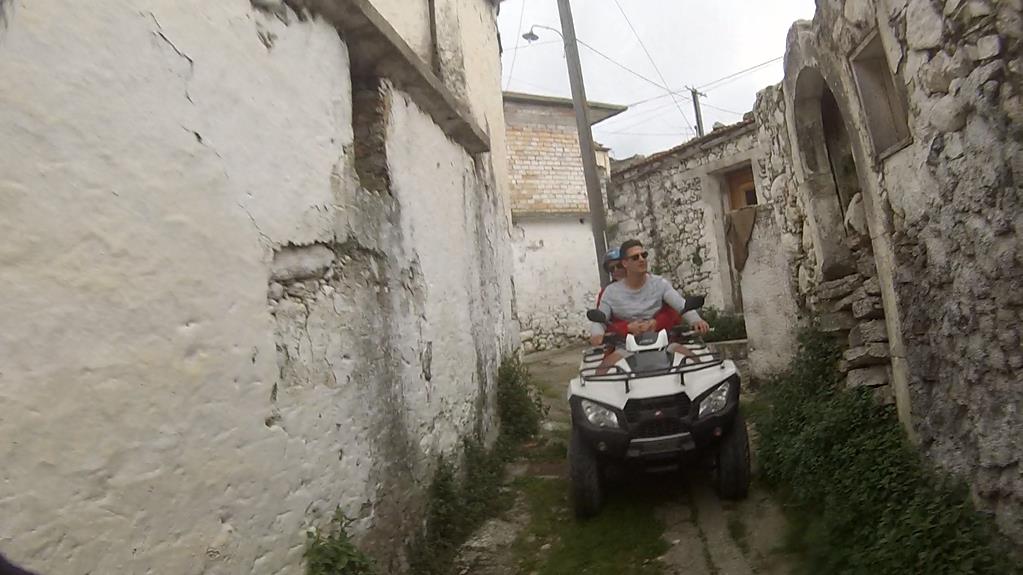 Crete's quad safari tour is rated as one of the world best as you enjoy the fun in the 65km which takes about 5 hours off-road wild safari of different terrains thus making sure that your tour remains forever etched in your memory.
The tour begins in the morning where an instructor gives you guidelines about the quad which should not be hectic. Here directions are given where basics such as accelerating, braking are demonstrated.
You begin from the ancient villages of Crete such as Koutouloufari, Piscopiano and old Hersonissos where you get into the wild terrain as you ride in the mountains enjoying the sites. Heading towards Lasithi plateau you get to take a look at the developed agriculture in the land as you taste the freshness of its fruits such as pears, apples, olives among others.
There is a stopover in the Askous village where you are served with Cretan cuisines.  After this, the trip proceeds to Aposelemis dam and view Sfentili village. The tour ends at the Panagia monastery which is in a jungle, from where the journey back begins in the afternoon.
The entire activity is really fun because there are no adverse weather conditions such high temperatures, so this ought to be on your to-do list if you happen to visit Crete in October.
Jeep safari
The Jeep Safari adventure is yet another interesting thing to do while in Crete. It is as amazing as it sounds. It involves riding on four–wheel jeeps across the terrain in the company of professional drivers and therefore safety is guaranteed.
This will give you an opportunity to take a trip to the Cretan mountains and the famous Lassithi plateau as you enjoy the wild jungle with all the fresh air from the trees. The journey leads to different destinations in Crete such as the historical caves and mythical sites such as Knossos palace.
The safari is not limited to any age group and therefore all ages are welcome onboard. Tourist can opt to drive themselves if they have driver's license or they can also choose to be driven by the available drivers, all you have to do is make a booking. This is a well–planned trip so you do not have to worry because meals are available and also a guide depending on the language you are comfortable with are at your disposal. 
Here are specific places that are already set that one can drive to:
• 
Lasithi Safari
The starting point is at Hersonissos, where you will drive southward towards a village where you can stop over for coffee in a café situated there. It then proceeds to the Dikti Mountains just before you make the second stopover at Agia Anna to have your lunch. After relaxing here the journey commences to the destination, Lasithi with the beautiful landscape busting with agriculture and windmills.
• 
Rethymnon
 Safari
Here, the safari begins in the morning from Rethymnon heading southwards to the village of Castello and the wonderful church of Agia Paraseui, hidden in a laurel forest. The weather in this place is incredibly cool as you drive on the roads covered by the forest canopies. Afterward, set out in the direction of the wonderful Plakias' beach where you will enjoy a refreshing swimming and a delicious BBQ. The safari concludes in the off-road trucks to the village of Georgioupolis, where the trip back begins.
• 
Safari in 
Mirabello
This safari is known for its mild weather that leaves you feeling refreshed. The trip begins in Sissi village heading to Milatos cave, and here, you cannot afford to leave your camera behind as you will capture some of the most beautiful scenes. From here you drive to the interior, Agios Antonios which was abandoned in the 18th century. For those with an itch for exploring history, this is your spot. After here, proceed to the coast at Vigladia for swimming and delicious BBQs for lunch. Then the trip back begins in the evening. 
Indeed Crete is a home of endless adventure

 riding on those comfy jeeps, which are

 a must-do thing.
CHECK MORE AND BOOK JEEP SAFARI TOUR
Mountain
 bike tour
Here is yet another amazing thing you can enjoy around Crete in October. There are many forums of already organized bike tours around Crete that you cannot exhaust. As you do this along those off-track roads to various old villages and historical sites, you get an opportunity to see the magnificence of Crete. The ride is under the thick forest canopies all the way to the mountains and the beaches. There are different places common in Crete where you can have your mountain bike tour such as:
This one takes off at the birthplace of Zeus where you can dig into the ancient myths about the native's gods. From here, you can carry on to Psiloritis' higher altitudes as it happens to be a plateau, riding in the woods on the gravel while capturing every moment.
This is an ancient cave with amazing giant stalactites and stalagmites which have interesting stories behind them. You get to ride on different terrains even along the riverside of Geropotamos. This is quite a smooth terrain for beginners.
This is an old fishing port where its route is appropriate to take on bike rides. It includes a mountainous landscape and a seascape that provides a very beautiful scenery. The ride is majorly on asphalt roads and in the farms making it less difficult.
This one is an amazing biking challenge where you ride in forest gorges and on rocky terrain.There are other terrains for biking that are absolutely offroad and far from human existence such as the Canyon which is endowed with hills, little plateaus and rocks.  This one is quite challenging thus making it joyful. There is also a river epic ride which is just epic as it sounds. The scenery is amazing as you ride in the trees following the river meanders.  
Horse riding
Here is another interesting activity to do during your Crete visit. Horses are just amazing animals and here in Crete you get to have fun with them and you could also learn how to saddle them.This is a fantastic activity with which you enjoy the beautiful weather of this island and site seeing, riding gracefully on a horse.
There are exiting beach rides where you enjoy the cool breezes and also around the villages of Crete not leaving out the beautiful gorges and the woods where the sound of the birds chirp melodiously in your ears. You also get to see the magnificent Argiroupoli's waterfalls and clear rivers that you will live to tell.
One of the places in Crete where you can enjoy horse riding is at the Odysseia Stables. There is also Horseback Riding of Chania that allows you to enjoy the Cretan beauty. They have forums for beginners, intermediate and advanced an also special one for children, thus no one is left out.
LEARN MORE AND BOOK HORSE RIDING TOUR
Knossos palace- Lasithi Plateau
This is yet another interesting place to visit and explore during your vacation. It is in Knossos palace where you get to learn about the ancient history of the Minoan kings and their rule in the 17 B.C. 
The place is equipped with incredible sites such as the great palace which includes four wings that form a central courtyard which has treasuries, storerooms, and shrines. In addition to this, you find the royal quarters and a ballroom.
The Lasithi plateau is yet another beautiful place for hikes and rides around as you enjoy its endowment in agriculture. The plateau has lots of places you can explore such as visiting the Psychro cave, a sacred Minoan cave which also happens to be the birthplace of Zeus, the Greek god. This is an amazing place you ought to visit, and can be easily accessed by foot.
LEARN MORE ABOUT KNOSSOS PALACE